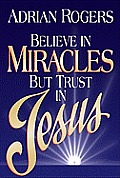 Publication Date:
March 9, 1999
Review Believe In Miracles But Trust In Jesus By Adrian Rogers Book Description
You're on the job with a deadline looming. At a game with your team losing and only two minutes to go. Or at home with a houseful of children and company coming at 7. In the midst of it you laughingly proclaim, "I need a miracle!"
But you really mean it when the situation is critical--while sitting in a waiting room outside the I.C.U., while awaiting word about the latest company downsizing, or while in the long depression of losing a loved one.
It is then you need, not just a miracle, but God Himself.
This book communicates this at its core: Each divine miracle that occurs now--and that Jesus performed during His lifetime on earth--is intended to set your sights on the
real
answer to your need: the Savoir.
And many other signs truly did Jesus in the presence of his disciples, which are not written in this book: But these are written, that ye might believe that Jesus is the Christ, the Son of God; and that believing ye might have life through his name. --John 20:30-31
As Scripture says, the seven miracles that the apostle highlighted in the book of John were intended as signs. They carried a message--proof that Jesus was who He said, the Son of God.
These "miracles with a message" from 2,000 years ago hold great relevance for you today. They serve as signposts pointing to Jesus, showing that He was and is God's answer to your deepest need. To your disappointments, doubts, disabilities, desires, despair, darkness, and death.
While this book studies those seven key miracles, its overriding message is that God performs miracles--then and now--for one reason. Dr. Adrian Rogers puts it this way: "Believe the miracles, but trust in God. Their purpose is to deepen our trust in Him, not in the miracles themselves."
This thought-provoking, popularly written book will change the way you view God and His work in our lives.
*Actually I brought this book for my brother, in the meantime I've also has read this book, it looks very interesting to know and for shared information.. Hopefully he will like it for reading and his research reference.